Protecting the Elderly is more Important now than ever
Air Hygiene plays a role in protecting residents and staff. FG IAQ has the solution for your application. Discover how filters help stop The spread of infectious diseases.
SENIOR LIVING
As COVID-19 has spread around the world, airborne precautions are essential to combat indoor disease transmission through HVAC systems.
It is of particular importance to secure buildings that house high-risk age groups who are typically immunocompromised by existing health concerns.
As we learn more about how COVID-19 contaminates indoor air environments, replacing existing filters with MERV 13-15 air filters can drastically improve the health of high-risk community buildings like senior living facilities.
FG IAQ and our partner company Purafil, Inc. have developed solutions for indoor containment and respiratory protection.
For information of recommended products, service programs and free general consultations
---
Air Hygiene plays a role in protecting residents and staff
Air filters remove a range of particle sizes and each time recirculated air passes through a filter, more particles are trapped. When the optimal filter type and efficiency is chosen the HVAC system can dramatically reduce the number of pathogens in the air.
Series 400 High Capacity Pleated
MERV 10
Stand Alone Solution in Addition to HVAC: Purashield 1000 & Phoenix Guardian Hepa System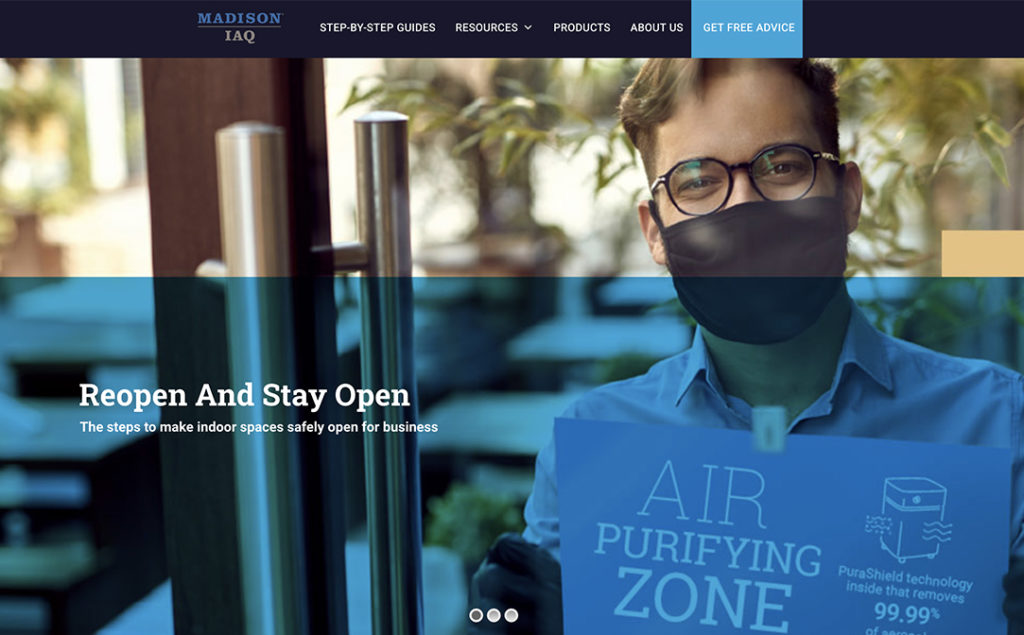 CONCERNED ABOUT RE-OPENING YOUR BUSINESS?
MADISONIAQ.COM is a free resource center brought to you by FG IAQ, Filtration Group of Companies, along with Madison Industries.